But did you know that another tour is available; the Secret Circle? I call it the Golden Circle with a very pleasant twist 🙂
In this travel-blog, I am going to show you what sets the Secret Circle apart from the regular Golden Circle tours.
Kjartan, our driver guide from Glacial Experience, picked me up at 8:00 in the morning and we were driven along the south coast of Iceland heading east.
But instead of turning onto road 35, like is normally done when driving the Golden Circle, Kjartan left the tour-buses behind and continued driving, thus taking us deep into the beautiful Þjórsárdalur valley, which is much less visited than the Golden Circle.
In Þjórsárdalur valley you will find several hidden pearls of nature; beautiful waterfalls, the fairytale oasis Gjáin, the longest glacial river in Iceland and Viking ruins to name but a few of them.
Not to forget the most active volcano in Iceland, Mt. Hekla, which guards this area, so to speak.
The only problem is though that it tends to erupt periodically and the Vikings had to move out of Þjórsárdalur after a big eruption.
On this tour, we are going to visit the ruins of one such Viking longhouse. Hekla has been dormant for 20 years now, but it might be due to erupt.
After stopping for coffee in Árnes café in Þjórsárdalur valley, Kjartan showed us this beauty: Hjálparfoss – Help Falls, in Fossá river.
Hjálparfoss is such a lovely waterfall set in basalt formations which create natural artwork around the waterfall basin.
Fossá river splits in two by the basalt rocks, and cascades in an equally beautiful pair of waterfalls into the basin before it continues on its journey just a little bit further on – where it merges with Þjórsá glacial river, Iceland's longest river.
Hjálparfoss is not the tallest of waterfalls, but what makes it so distinct apart from being split in two, is the basalt bear formation protecting it.
Can you see it to the left of the waterfall in my two photos above? Some people think it looks like a bird's head, but I have seen a bear ever since I visited it first as a little girl with my parents, and fell in love with the Bear waterfall 🙂
Here we find ourselves by the edge of the central highland of Iceland.
I believe that the name Help's Falls was given to the waterfall by travellers crossing the barren highland on horseback, as in this beautiful oasis, they could finally graze their horses after a long journey.
Háifoss waterfall
After admiring Hjálparfoss for a while, it was time to enter the central highland and turn onto a bumpy and rocky gravel road, only suitable for 4×4 jeeps.
Kjartan let out a bit of air from the tires to make the journey to Háifoss less bumpy for us. And what do you know, we met a 2WD on the way, having great trouble driving on this bumpy road.
Never venture onto the road leading to Háifoss in a 2WD, either rent a 4×4 or better still, jointhe Secret Circletour with guidance.
We were in luck that the sun was shining and on this tour, and I got my first rainbow photo of Háifoss 🙂
And as it was so windy then the waterfall was blowing to the east displaying a circle hidden behind it, which I had never seen before. I think this is the most beautiful I have seen Háifoss waterfall.
Háifoss waterfall is Iceland's 3rd highest waterfall, not counting glacial waterfalls. Like Hjálparfoss, Háifoss is situated in Fossá river, which is a spring water tributary of Þjórsá, Iceland's longest river, as I told you earlier.
Háifoss does not stand alone here on the edge of the central highland, as the Fossá river splits in two and creates another waterfall, which cascades immediately next to Háifoss.
Its name is Granni – Neighbour, but they never see each other as a majestic cliff separates them.
Notice the basalt formations by both Háifoss and Granni, which add to their beauty.
Granni in Icelandic can also mean the thin one. These waterfalls didn't get their current names until 1912 and were called Fossárfossar or the Falls in Fossá river.
Photographing these two waterfalls together can be tricky, but once accomplished you will have a beautiful photo, which looks like it was shot at a panorama setting.
I have visited Háifoss on several occasions and seen tiny people hiking in the gorge. I never knew how to hike down to the falls and thought it might be way too difficult for me as I am not much of a hiker and prefer even ground under my feet 😉
Then I found out that included in the Secret Circle is a hike into the gorge!
I thought to myself that I couldn't do it and I would slow my fellow travellers down, so I decided on staying on top and taking photos of them from above.
I joined them for the first part of the hike though to see what the trail looked like. It looked ok, not too steep, so I followed behind them.
Good hiking shoes are necessary here as the trail is rocky and has got loose gravel. And it would be a good idea to bring hiking poles.
I would rate this hike as being of medium difficulty, but better hikers than I am would most likely say that the hike is easy.
The hike is 3.7 km and it took us around 1 hour to complete it back and forth, including the 15 minutes by Háifoss in the gorge.
I was so glad that I joined this hike as Háifoss was ever so beautiful on this sunny summer day.
Gjáin and Stöng
After our visit to Háifoss waterfall, we stopped by a beautiful oasis, Gjáin, hidden away from sight next to a very bumpy gravel road, only accessible to 4×4 jeeps.
It is truly one of Iceland's hidden pearls of nature, delicate beauty with the appearance of a fairytale world.
Gjáin is one of the beautiful sights in Þjórsárdalur valley, which gives a name to the Secret Circle tour.
The Game of Throne fans might recognise the waterfall in my photo above from the Water Dance scene, which was filmed here in Gjáin.
Nothing was digitally added to Gjáin in that scene, as in some other locations where the Game of Thrones series was filmed, as the beauty of this place is just magical.
I have written another travel-blog about the Game of Thrones filming locations in Iceland, where I include Gjáin.
A short distance from Gjáin, the guide will show you the excavated ruins of the old Viking longhouse Stöng.
I can understand why the Vikings chose such a beautiful location for the longhouses. Little did they know that they were building their farms in the vicinity of an active volcano.
This area got greatly affected when the volcano Hekla, in olden times called the Gateway to Hell, erupted back in 1104 and some 22 Viking turf farms and longhouses got buried under pumice.
This was the first time Hekla had erupted since the Settlement of Iceland.
It must have been devastating for them to have to move out of this beautiful valley.
Archaeological excavations took place here in 1939 and many settlement farms were excavated, but only the exceptionally well-preserved ruins of Stöng can be visited. The other ruins were covered again.
A protective roof was put on top of the ruins at Stöng to preserve it and to enable us to visit them.
The guide will show you around and explain the function of each room to you.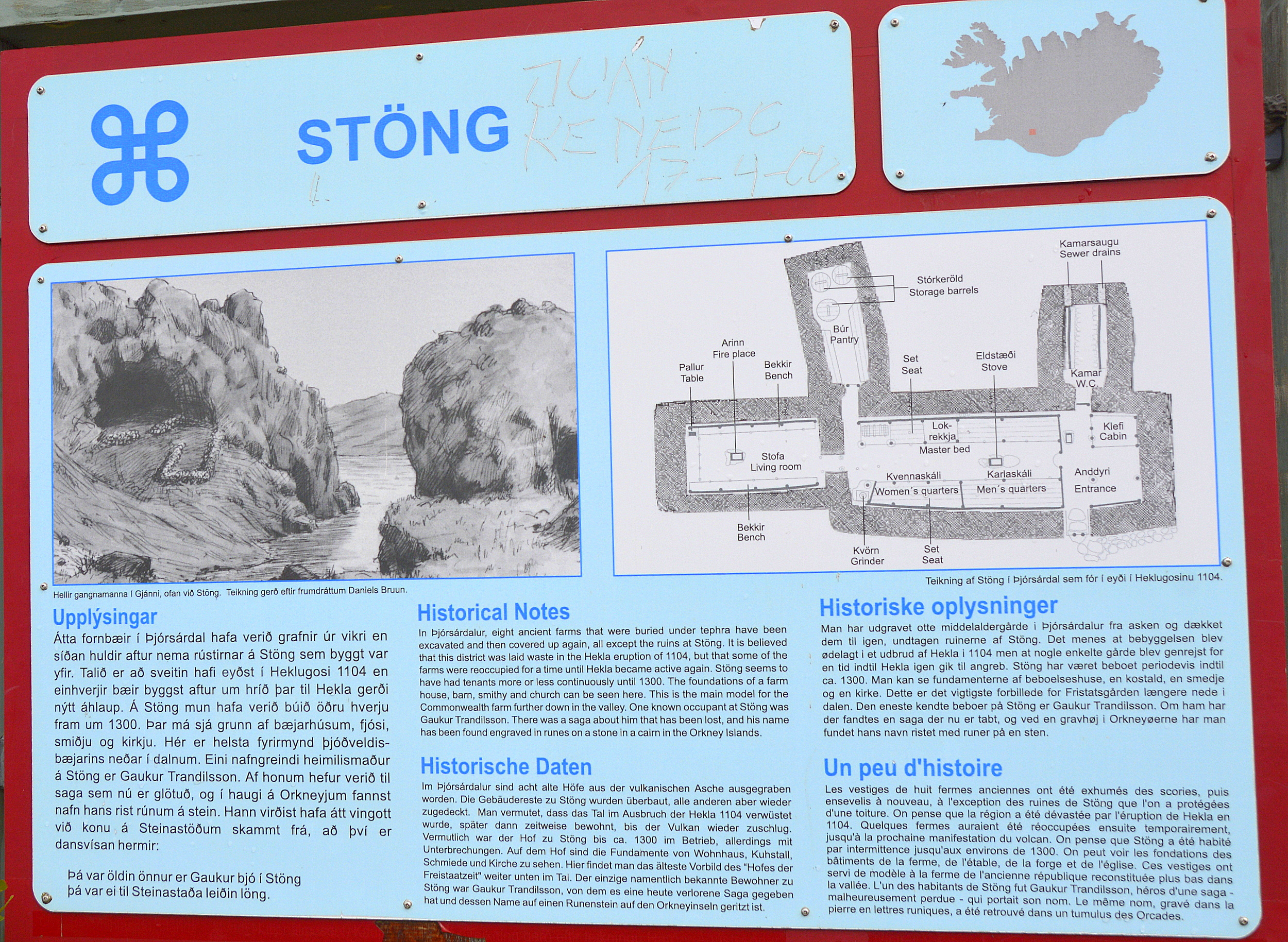 If you want to read up on more Viking ruins in Iceland then I have written another travel-blog – A Compilation of the Viking Ruins & Pagan Burial Mounds I have visited on my Travels around Iceland.
By now it was time to have a well-deserved lunch at Flúðir village.
Gullfoss waterfall
After visiting the beautiful Þjórsárdalur valley and having lunch it was time to join the Golden Circle and visit the best-known waterfall in Iceland, Gullfoss waterfall – the Golden Fall, which gives a name to the Golden Circle.
Gullfoss is 32 metres tall, with two cascades, the upper one is 11 metres, and the lower one is 21 metres; together they fall into a 2.5 km gorge.
As I have told you then the Secret Circle is the Golden Circle with a pleasant twist, so here came another surprise. Instead of joining the crowds on the western side of Gullfoss waterfall, our guide took a road much, much less travelled, a gravel road only accessible by a 4×4 jeep.
When we reached the end of the road a hidden rocky trail took us on a 20-minute hike down to the eastern side of Gullfoss waterfall.
I love this waterfall and count it as number 4 on the list of my favourite waterfalls in Iceland.
Gullfoss is the waterfall that I have visited most often in my lifetime, and I never tire of it.
This was my first time visiting Gullfoss from the eastern side and I was very eager to see it from a different angle. And I was not disappointed as it is equally mesmerising as seen from the western bank.
Here we were alone looking over at the crowds of people on the western bank.
In the middle of the upper falls, you will find a rock formation, which I call the Lady of Gullfoss. This is what she looks like from the eastern side of Gullfoss.
From here I could see her much more clearly than from the western side and I noticed that she has even got facial features! Can you spot her?
We followed the trail and enjoyed the beautiful view – and very cautiously looked into the Hvítárgljúfur gorge. Here we were standing on the very edge, so be extra careful here when joining this tour as the grass can be slippery and the edges can be unsafe.
This is for sure not a gorge into which we would want to fall. So only visit this side of the Hvítá river with an experienced guide.
Hvítá glacial river runs from Langjökull glacier, Iceland's second-largest glacier, and into Hvítárgljúfur gorge.
On the way to the sea, 4 additional rivers join Hvíta; Tungufljót, Brúará, and Stóra-Laxá, and by Sogið freshwater river it turns into Iceland's most voluminous river, the massive Ölfusá river.
Geysir geothermal area and Strokkur
After visiting Gullfoss from the lesser-known side, where we were alone, we joined the normal route of the popular Golden Circle and stopped by one of the main attractions on this route; the high-temperature Geysir geothermal area, where you will see the original Geysir's neighbour, Strokkur, spouting every 5-8 minutes.
No matter how many times I visit the Geysir geothermal area I am always in awe when I see Strokkur erupting.
This must be one of the most spectacular areas of Iceland, and Geysir is by far the best-known geological phenomenon in Iceland.
Geysir has given the name to spouting hot springs all around the world, geysers.
We spent half an hour in the geothermal area, taking photos of Strokkur's eruptions and checking out the other colourful hot springs in the geothermal area.
Þingvellir national park
The last stop on this amazing Secret Circle tour was at Þingvellir National Park. Þingvellir must be the most beloved place in Iceland by us locals and we almost regard it as a holy shrine.
There are two amazing facts you have to know about Þingvellir:
Firstly, it is a UNESCO site – a cultural site connected to the Viking culture. Here the Vikings established a parliament back in 930 and met up for the last 2 weeks of June – then Þingvellir got filled with tents and people.
The assembly set laws here and disputes were settled. And in the latter part of the 13th-century punishments and executions were carried out at Þingvellir.
So it is a bitter-sweet experience visiting Þingvellir. Sweet as nature here is extraordinary and bitter for those of us who know the history of Þingvellir.
The other remarkable fact about Þingvellir National Park is that it is situated on the tectonic plate boundaries of the Mid-Atlantic Ridge, the North-American, and Eurasian continents.
And it is only one of the very few locations where the tectonic plates are visible above ground.
We walked inside Almannagjá gorge, which forms the eastern boundaries of the North-American Plate and learnt about the history of Þingvellir. Our guide took the jeep to the lower parking lot and met us halfway through the gorge.
A beautiful day was drawing to an end, and by now it was time to turn back home after 9 hours on the road.
And what a day it had been, filled with the most amazing landscape and waterfalls, amongst them some of Iceland's hidden treasures.
This was an absolutely marvellous day-tour, the Golden Circle with a pleasant twist. And what a twist 🙂 Highly recommended!
Þingvellir is located only 50 km away from Reykjavík, so it took us an hour or so to reach the city.
Have a lovely time visiting the Secret Circle of Iceland🙂
Vala Hafstað, a journalist from Iceland Monitor joined us on this tour and wrote about her experience: Secret Circle and Hidden Ties. It is a beautifully written article, which I recommend reading 🙂